Murphy's Fine Woodworking Newsletter Summer 2020
If you are having trouble viewing this email,

Click here to view it online.

Unsubscribe
September 2020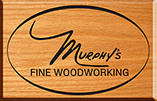 Custom Furniture of the Highest Quality

Dear Visitor,
Today I had a real pleasant surprise! In the August issue of WOODWORKER'S JOURNAL, my California West Greene & Greene chair in Cherry and Curly Maple was featured. Just love this chair as it is a true work of Art and must be one of the most comfortable chairs that I make. We have one in process that is almost done as it was scheduled for entry into the Del Mar Fair, Design in Wood Show which has since been cancelled. We were a major sponsor of that Show for 30 years and never allowed to enter. But after we sold the business, they have been asking me every year to enter!!! If you are interested in a great deal on a chair let me know!!!
California West Greene & Greene Chair
This chair and footstool are a new design for us. The legs are solid cherry and feature the Blacker Leg Indent Detail from Charles Greene from 1907-09. The Cloud Lift Detail of side stretchers in Curly Maple create a stunning profile for the design. All the pieces are assembled with mortise and tenon joinery This design set the standard established by the brothers, Charles & Henry Greene. The leather is from Argentina and is a perfect match to the wood colors.
Size: 40" high by36" wide and 42" deep. $3200.00
Summer Sale Price $2950.00
Call me for FREE delivery and Specials 760 743-6923
This was just delivered and installed. This piece functions as a room divider. Select and prime alder raised panel doors and those with glass have 1 ½" bevel glass. The remote lighting is controlled by a "Harry Potter" remote wizard wand (switch)!! The back is the mirror image of the front less the drawers. The shelves in the glass fronts all have glass inserts so the 3 stage lighting shines through. Self-closing doors on all and the drawers with beautiful dovetails have hidden Hettich hardware which is also self-closing. The top is perfectly flat thanks to our new 44" wide belt sander!!! The handsome young man is my Grandson Noah, who for the past 2 months has assisted in the build and installation!!
---
As a small independent furniture maker, we can offer a degree of flexibility and attention to detail not commonly found in larger shops. "I thoroughly enjoy and take great pride in my work. Using attention to detail and proven construction."
I like to think that we build Extraordinary Hand-built Furniture for your Extraordinary Home. Give us a call to chat about your dreams …
For a bit of an adventure visit our web page at the Gallery Section Click Here to see the really different collections that we make.
If you have any questions, give us a call!
Very Best,

Post Office Box 300100 / Escondido, CA92030 / 760 743-6923
2243 Mountain View Drive / Escondido CA 92027
This email address is being protected from spambots. You need JavaScript enabled to view it. :: Website
You received this email because you made your email address publicly available for the purpose of receiving communications regarding Murphy's Fine Woodworking. This email is a business communication or advertisement. If you don't want to receive our news anymore,

Unsubscribe