New Year 2023


I featured this picture in the last Newsletter and I did like it as it represents the Chairs that I have done for so many years. Last count it is over 150+..! Since all the furniture that we make is WOOD, I would like to share and article that I just read on how to take very good care of it.
6 ways to keep wood furniture looking beautiful
The secret to long-lasting wood furniture? Preserving it with oil ... Applying oil to natural wood furniture can keep it healthy and beautiful. In between oiling, clean weekly with a lightly damp cotton cloth and then wipe dry with another clean cotton cloth.
Your lips aren't the only things that can crack and dry out if you don't keep them lubricated—your wood furniture will too. Often the culprit behind wood losing its lovely finish is excess heat (being too close to radiators, fireplaces, sunlight) or excess humidity. But even if you move wood furniture away from hot, drying sources or run a dehumidifier when the house is damp, you may still see splits and cracks. That's why applying oil to wood furniture, such as a coffee table or bookshelves, is so important if you want them looking good well into the future. Here's what you need to know about using oil to preserve your wood furniture:
Check the furniture's surface first
While most wood furniture will benefit from getting oiled, others will not. Furniture with a painted or lacquered- gloss top should not be treated with oil because the oil won't be able to penetrate the finish and get deep into the wood.
Clean before oiling
Keeping wood furniture clean just requires that you regularly dust it. Use a damp (not soaking wet) cotton cloth once a week to keep grime from accumulating on your furnishings. Use another clean cotton cloth to wipe away any residual moisture. What not to use: aerosol furniture sprays and polish containing wax or silicone, which may leave a filmy buildup that will detract from your furniture's beauty. Also don't use harsh ammonia-based cleaners because they can damage the finish. A longtime favorite for gently cleansing: Murphy's Oil Soap, which you mix with water.
What kind of oil to use
Linseed oil is one of the most popular natural wood oils to use on furniture because it goes deep penetrating the grain of the wood thoroughly and protecting it against moisture. Lemon oil also works well, helping to protect wood against insects and mold.
How to apply oil on furniture
Saturate a soft cotton cloth and with the oil. Working in the direction of the wood's grain, wipe the cloth all over the wood's surface, especially the dry areas. Let the oil sink in then wipe off excess grain after about 20 minutes. Buff with another soft cotton cloth.
Plan on oiling infrequently
Fortunately using oil on your furniture doesn't take much time—in fact, a twice-yearly oil cleansing would be enough to maintain the wood's beauty.
How oiling furniture may affect its color
While applying oil to unfinished or oil-and-wax-finished wood could change the color, it's only temporary. If the wood appears glossier or darker than before, don't worry—it will shortly settle into the original look. Light woods may look more golden but that color will neutralize as the wood dries out again.
California West Greene & Greene Chair
This chair and footstool are a great design for us. The legs are solid cherry and feature the Blacker Leg Indent Detail done by Charles Greene from 1907-09. The Cloud Lift Detail of side stretchers create a stunning profile for the design. All the pieces are assembled with mortise and tenon joinery and they are plugged with ebony pins. This design standard set the standard for the Greene & Greene which was established by the brothers Charles & Henry Greene. The leather is from Argentina, and we have a selection of colors to match your decor.
Size: 39" high by 65" wide and 22" deep. Winter Sale Price $3,400.00
Sides assembled with arms
Chair assembled & arms installed
Mission Sideboard Collection
We feel that his piece which I have made at least 10 times and have taught to 15/20 students at a school just outside of Indianapolis represents our Mission Line at its very best. The three dovetailed drawers and the doors with the inlaid butterfly keys reflect the Arts & Crafts style. Available in both red and white oak and cherry it fits today's homes very well. In quartersawn wood it is truly stunning.
Size: 40" high by 36" wide and 42" deep. Winter Sale Price $3,995.00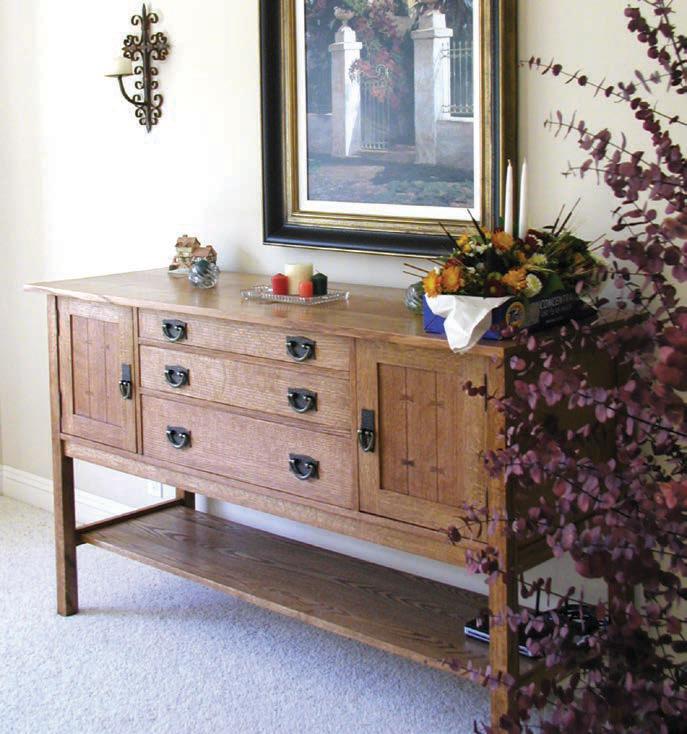 I invite you to view our Cutting Boards and Charcuterie program. We currently have almost 15 boards in stock here at our shop in Escondido. They range in price from $60.00 to over $100.00+. They are just stunning and would make great New Years Gifts. Give us a call to see them…! 760 613-1230
https://www.earthwoodcuttingboards.com/
As a small independent furniture maker, we can offer a degree of flexibility and attention to detail not commonly found in larger shops. "I thoroughly enjoy and take great pride in my work. Using attention to detail and proven construction."
I like to think that we build Extraordinary Hand-built Furniture for your Extraordinary Home. Give us a call to chat about your dreams …
For a bit of an adventure visit our web Gallery Click Here to see the really different collections that we make.
If you have any questions, give us a call!
Very Best,

Post Office Box 300100 / Escondido, CA92030 / 760 743-6923
2243 Mountain View Drive / Escondido CA 92027
This email address is being protected from spambots. You need JavaScript enabled to view it.
www.murphysfinewoodworking.com
www.earthwoodcuttingboards.com