Panache Invitational Exhibition and Art Auctions
Niki de Saint Phalle (1930-2002)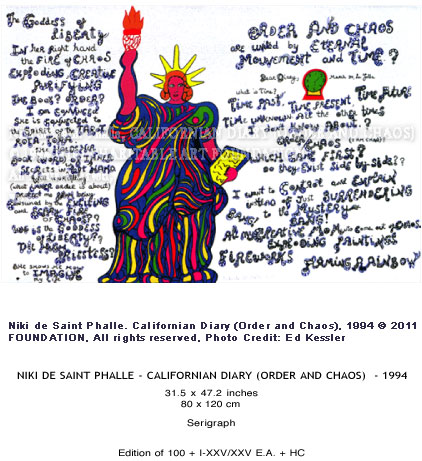 Escondido is home to the enchanting Niki de Saint Phalle's Queen Califia's Magical Circle Garden . During Panche we celebrate the life and art of this world renowned artist. The highlight of the Live Auction is a signed serigraph! This year's Niki is from her "Californian Diary" series which was created in 1994.
-Niki de Saint Phalle Moves to San Diego, California, where she lives for next eight years. Contracts with Lech Juretko to organize a studio for the cutting of mirrors, glass and stones, which she is increasingly using in her sculptures instead of paint.
-Creates a series of silkscreens, California Diary, published by Ebi Kornfeld, as well as 26 lithographs created with two former collaborators of Sam Francis - George Page and Jacob Samuel. In October, the Niki Museum opens in Nasu, Japan, devoted to the life and work of Niki de Saint Phalle.
-She begins collaboration with architect Mario Botta on a major sculpture/architectural project, Noah's Ark, for Jerusalem.
- She designs postage stamp Stop AIDS/Stop SIDA for Switzerland.
- Niki receives Le Prix Caran d'Ache.
The Niki Charitable Foundation
Brian Murphy: Local Furniture Maker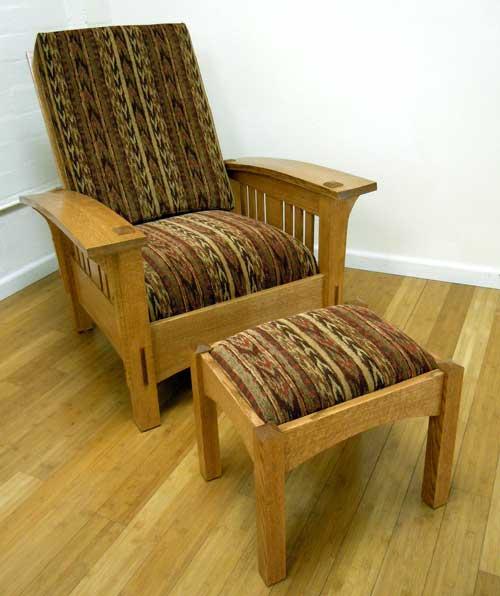 Murphy's Fine Woodworking California Bow Arm Chair
Murphy's Fine Woodworking has been a leader in the California Art's & Crafts style of furniture since 1986. Brian's designs have won awards at numerous shows across the county and we are fortunate to have one of his beautiful chairs up for auction at this year's Panache!
Panache Invitational Artists:
Niki de St. Phalle, Brian Gibson, Brian Murphy, Carol Perry, Carolyn Nespolo, Carrie Repking, Cathy Carey, Chrisanne Moats, Claire-Lise Matthey Anderegg, Daniel Brooks, David Huff, Donna Cosentino, Elizabeth Huller Eisemann, Garry Cohen, Harry Bliss, Helen Schafer Garcia, Jack Iskin, James Soe Nyun, Janet Perkin, Jean Degenfelder, Joan Irving, Jo-Lind Eckstein, Judith Shadzi, Kathy Rubesha, Kellene Richetts Nguyen, Kim Niehans, Lorraine Page, Luke Woodaman, Marjorie Weaver, Michael Duke, Moses Muturi, Nancy Jennings, Nancy Lee, Peter Mitten, Petey Dietz, Rachelle Farber, Renee Richetts, Richard Powers, Sally Reis Vogt, Shant Beudjekian,Sherry Krulle-Beaton, Teresa Kokke, Terrilynn. Victoria Estacio Huckins, Vita Sorrentino, W.L. Wilson, Will Gibson, William Ferrell, Woody Woodaman and visiting artist Michel Saloff-Coste
Your Panache Host is Barbara Preston