Wood: A Furniture Show IV
Woodworking show returns for fourth year
Fine furniture makers will exhibit at Escondido Municipal Gallery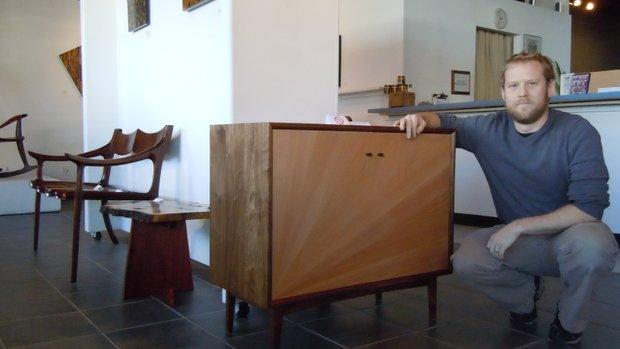 ESCONDIDO — When Brian Murphy went looking for fellow craftsmen to exhibit in his fourth annual "Wood: A Furniture Show IV" — which opens Friday at the Escondido Municipal Gallery — he ran into an unexpected problem.
Many of the furniture-makers who regularly exhibit in the hugely popular show didn't have anything available to show this winter. Ever since the recession began, few furniture artisans can afford the financial risk of building an inventory. Instead, they build on commissions and rarely have finished pieces available in their studios to exhibit.
But Murphy still managed to cobble together a show of 14 handmade pieces by six San Diego County artisans, including himself. The show will feature chairs, a rocker, tables, a jewelry cabinet and more.
The "Wood" show is one of the best-attended exhibits all year at the gallery, which is managed by the Escondido Arts Partnership. On opening night last year, more than 600 people crammed the Grand Avenue gallery for "Wood III," and Murphy said that during the one-month show, visitors came by the busload from all over North County.
"Word of mouth is really great for the show each year," he said. "We get so many people in here who are art collectors who really appreciate the work of fine artisans. It's exciting."
Murphy, co-founder of the San Diego Fine Woodworking Association and proprietor of Murphy's Fine Woodworking in Escondido, will show two chairs he created in the style of Gustav Stickley. He will sell one and donate the other to the Escondido Arts Partnership, which will auction the chair to raise money for future exhibits.
Also exhibiting are brothers Amal and Shem McNew, whose Escondido-based furniture business McFinn Designs was recently featured in San Diego Home & Garden magazine. The McNews specialize in contemporary-style furniture and they are creating a table for the exhibit, Murphy said.
Longtime Palomar College woodworking instructor Jerry Beaudry of La Mesa will exhibit four pieces in the show, including a rocking chair in the style of Sam Maloof and a jewelry box.
San Diego resident Dick Ugoretz, who is vice president of the woodworking association, will exhibit some traditional-style wood furniture.
And show newcomer David Marr of San Diego will show some tables and cabinets that highlight his expertise with wood veneer, marquetry and inlay.
Murphy said the recession has been hard on fine furniture-makers, but quality craftsmanship will always have loyal customers. He said he has a three-month backlog of orders right now, and the McNew brothers have a six-month pipeline for projects.
The show opens Friday and runs through Feb. 2 at 262 E. Grand Ave. An opening reception from 5:30 to 8 p.m. Saturday will be hosted by Stone Brewing Co. Gallery hours are 11 a.m. to 5 p.m. Tuesdays and 11 a.m. to 4 p.m. Thursdays through Saturdays.